Description
Stereo zoom microscope upper lower light top bottom dual light
The upper and lower light sources are 12v15 halogen lamps with adjustable brightness (the lower light source can be equipped with fluorescent lamp), providing high-quality optical system and durable and reliable operating mechanism. Complete accessories, diversified combination configuration. Meet the modern biology, medicine, scientific research, modern electronic industry online detection.
Stereo zoom microscope upper lower light
Lens tube: 45 ° tilt, 360 ° rotation binocular observation head; pupil distance adjustment range 54-75mm; binocular lens tube visibility can be adjusted, the adjustment range is ± 5 diopter.
Eye lens: use wf10x high eye point wide-angle eye lens, line field of view up to 20 mm, to provide convenience for the observer wearing glasses.
Objective lens: 0.7x-4.5x continuous zoom objective lens to ensure the image plane uniformity.
Amplification range: the standard magnification is 7-90x, and the magnification can be expanded to 3.5-180x after the auxiliary large objective is selected.
Working distance: the standard working distance is up to 100 mm, and the maximum can be configured as 30-165 mm (with 0.5x auxiliary large objective lens), providing users with larger working space.
Stereo zoom microscope upper lower light
Widely used in microelectronics, mold, powder metallurgy, precision machinery, jewelry, clocks, jewelry, fingerprint identification, ticket identification, printing, optical fiber, mobile phone maintenance, archaeology, biological anatomy, school teaching and other fields. It is especially suitable for observing the surface microstructure of large objects.
Stereo zoom microscope upper lower light
SZM series continuous zoom stereo microscope is novel and generous in shape, with brand new optical design, all coated with film, In addition to the advantages of high magnification and high resolution, the compact design and long working distance make this series of products fully meet different needs and diversification The combination of the two makes its function more perfect.
Stereo zoom microscope upper lower light

stereo microscope upper lower light 2 illuminator
Hits: 4
Stereo zoom microscope upper lower light Marvelous power magnification 2022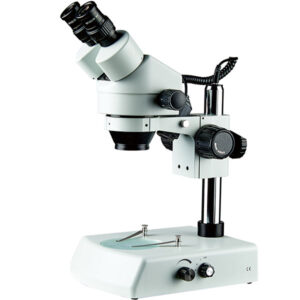 Stereo zoom microscope upper lower light Marvelous power magnification 2022,top and bottom 2 light illumination, zoom magnification
Product SKU: SZM45-B1
Product Brand: chutong
Product Currency: USD/RMB
Product In-Stock: InStock