Description
microscope cmos camera c-mount USB 3.0 interface
microscopes camera is mounted in place of the optical eyepiece and real-time images are displayed on the computer screen or monitor.
With USB 2.0, USB 3.0, HDMI, 4K Ultra HD, 5G Wi-Fi and built-in operating system technology.
microscope camera equipped with high quality image sensor to meet different levels of users and various microscopy imaging applications.
cmos cameras are the most common way to take photos and video from your microscope.

specification microscope cameras c-mount USB 3.0 interface
Standard C-Mount camera with Aptina or Panasonic CMOS sensor;
With hardware resolution among 16M to 18M;
Ultra-fineTM HISP VP and USB3.0 5 Gbps interface ensuring high frame rates(Up to 13 frames for 18M Resolution);
CNC aluminum alloy housing;
USB3.0 5Gbps interface ensuring high speed data transmission;
Ultra-Fine color engine with perfect color reproduction capability;
With advanced video & image processing application;
Windows/Linux/macOS/Android multiple platform SDK;
application microscope cameras c-mount USB 3.0 interface
Machine vision; Medical imaging;
Semiconductor equipment; Test instruments;
Document scanners; 2D barcode readers;
Web camera and security video;
Microscope imaging;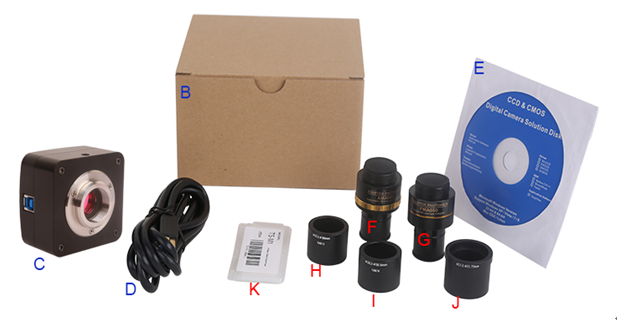 Hits: 6