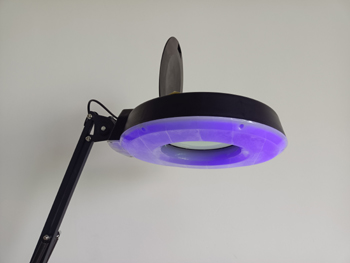 magnifying lamp ESD UV combine the function of each unit, it is a magnifying lamp, electrostatic prevention Anti-static ESD safetly, uv ultraviolet light magnifier.
Magnifying lamp ESD UV ultraviolet lightness ESD dafe body Features:
-Lens: optical glass lens (127*127mm)
-Magnification: 3 diopter 5 diopter
-Structure: Full metal construction on body, lamp casing and clamping holder
-Arm: foldable 41CM*2(with clamp or casters base)
-Light source: LED
-Power input: 100V-240V
-Base: weighted base /clamp 5.5mm/universal Casters 60cm height
Package includes: magnifier, table clamp, and power supply
Anti-static magnifying lamp ESD safety application:
Widely used in dust-free workshops, purification workshops, photovoltaic power plants, LED factories, PCB factories, electronics factories, electrical equipment electronics, wafers, LCD / LCM / LED, optoelectronics, chip semiconductors, laser heads, pharmaceutical chemicals, precision equipment , Health care equipment, microelectronics industry, aerospace, military industry.
electronic components (electronic devices), optoelectronic products, electronic devices, liquid crystal products, integrated optoelectronic products and other products, aerospace manufacturing, etc., which require ESD and purification grade production field.
UV light ultraviolet magnifier lamp application
1 inspection of banknotes (RMB, US dollar, HK dollar, Euro pound)
2 leak detection for air conditioning and vehicle circulation systems, special gases
3 oil and gas pipeline leakage inspection
4 inspection of the site of a systematic trail of bloodstains
5 hunting treasure hunting field exploration tool
6 antique appraisal, jade jewelry inspection
7 fluorescent reflection of special substances
8 Lure mosquito lamp to kill mosquito
9 scorpion lamp
10 UV glue curable nail lamp
11 sterilizing and sterilizing
12 plant growth
13 stage decoration
Magnifying lamp ESD UV
contact us for more specification about magnifying lamp ESD VU
Hits: 17